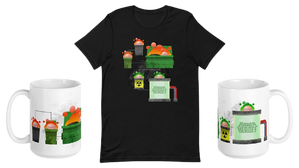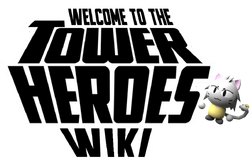 Tower Heroes
is a tower defense game on ROBLOX made by
Pixel-Bit Studio
. Here you can learn about the heroes in the game, events, codes, maps, and more!
Found any missing info? Help us by providing it HERE
You can see a page version of the rules
here
.
1.
English Only
This wiki is an English speaking community. We understand that not everyone might speak English. However, we aren't able to moderate text in other languages.
2. Swearing is Allowed
We would prefer if you don't, but if you do, please keep it to a minimum. Slurs are never allowed.
3. No Advertising/ Promoting non-related items
No advertising servers or anything along the lines of it.
4. Safe links only
Only post links that guaranteed to be safe. Nobody wants to click on any suspicious links.
1. Don't Vandalize
Editing a page with the intentions of inserting false information, blanking the page, etc will result into a 1-2 week ban. Ban Length may vary on the amount of damage done in certain situations .
7. No false information
Keep everything on the wiki legitimate as possible, as we are trying to inform people, not spread lies.
1.
No Low-quality posts
Posts that have no general topic will be deleted. Memes and art are exceptional though.
2. No Discrimination or Harassment
Discrimination will not be tolerated. This includes things such as racism, homophobia, and many more. It doesn't matter who you are, what you are, where you're from, for any reason at all.
3. No Sensitive Materials/NSFW
This includes be gore, sex, nudity, etc.
Buy Merchandise
(Deprecated, there is a update log that appears when you join the game.)
August 30, 2021
Summons now disappear when their summoner is sold. (similar to how beetrice bees die)
July 28, 2021
PVP Update
- PVP MODE (Battle it out against the opposing team by using sabotages to win!) - Over 30 sabotages available and more coming in the future!
- ROBLOX TOYS [Chef and Goblin] (Have one of the toys? Earn free items in game!)
- Codes menu now shows toy checklist and toy redemption
- Bleak Barrens (Map)
- New Enemies and Boss
- Reward Skins
- Impwick Mimic Skin
- New Hero Renders
- Fixed Hero UV Mapping and Smoothing Errors
- Balancing Changes (Kart Kid-, Oddport+, Dumpster-, Maitake-, Fracture-, Byte+) - Lobby Fixes
[Enter Code: PVPUPDATE for a free modifier!]
- potential fix for weekly challenges changing requirements
- Invincible Kart Kid does less damage for each enemy he hits
- Maitake can only apply healing to a summon once
- Byte Level 4 does not have a health maximum
- Increased Hero prices in the shop (Weekly Challenges with set decks offer a lot of coins to new players)
also note balancing is not final
- also added a notification when you increase the hero limit with discount dog
- also to note - battle mode rewards are higher the longer both teams survive (they are low if some team dies immediately)
July 4th, 2021
Happy Fourth Of July!
- Yasuke [HERO]
- Sacred Shrine [MAP]
- Corporate Chaos Remaster [MAP]
- 20+ New exclusive enemies
- Reward Skins for Corporate and Shrine
- Help Menus for New Players
- Progression Menu
- Chef Update (Level 5 Change and Mesh Fixes)
- Chaos Kingdom Update (New Waves, Boss Rush, and Fixes)
- 6 New Modifiers
- Corporate Chaos Mimic
[Use Code: 4JULY2021 for a free modifier!]
June 7th, 2021
- fixed a bug with decks messing with data
- added new lag option "hide enemy" (replaces enemies and summons with cubes)
- fixed balloon pal and beebo for position move mod
- C - upgrade hero
- V - sell hero
June 2nd, 2021
- Oddport Academy Crossover!
- Oddport Hero
- Oddport Academy Map
- Oddport Enemies and Boss
- Oddport Fairy Mimic
- New Lobby
- Updated Clothing Buying System
- Server Menu Board
- New Running and Jumping Animations (Made by Sniper)
- Stickers (Communicate with other players using awesome graphics of characters!)
- Series 1 Sticker Pack
- Brick Crate (Skins)
- Changed Percentages (Mythics are still the same percent don't worry)
- Balancing Changes

April 1st, 2021
Easter Event
Bunny Returns
Bunny attack Updated
Easter Eggland Map (Updated Easter Island)
Beetrice Hero (Made by BoxboiJakers)
Honeycomb Heist Map (Made by BoxboiJakers)
Egg Hunt 2018: The Great Yolktales Collaboration (Boss, Enemies, Booker Skin)
Egg Hunt 2021: Enchanted Eggos Collaboration (Boss, Enemies, Jester Egg Skin)
Easter Skin Crate
Easter Lobby
New Easter Enemies and Bosses
New Honeycomb Heist Enemies and Bosses
Easter and Honeycomb Reward Skins
Easter Mimic and Honeycomb Mimic
Modifiers (Change up things in Casual Mode!)
Inventory Page
Modifier Shop
Random Modifier Drops on Challenge Hard Mode
Updated Server Creation Menu